April 14, 2016
Themed with "Leapfrogging", CoStone Annual Meeting 2016 kicked off at Sheraton Dameisha Resort Hotel Shenzhen, Guangdong on April 4. The two-day annual meeting attracted hundreds of investors, scholars and entrepreneurs to discuss the issues of investment opportunities in a downturn, China's middle-income trap, opportunities and challenges faced by the industrial internet, entrepreneurs' responsibilities and the current domestic and international order.
Zhang Wei, Chairman of CoStone Capital, Xu Xiaonian, Professor of Economics and Finance at China Europe International Business School (CEIBS), Peng Jianfeng, Professor and PhD Supervisor at Renmin University of China (RUC), Tai Hongwei, Founder and Executive Dean of Winku Business School, Zhang Ming, Professor and PhD Supervisor at RUC, Xu Jilin, Professor and PhD Supervisor at East China Normal University, and Wang Shi, Founder and Chairman of Vanke, gave wonderful speeches at the meeting.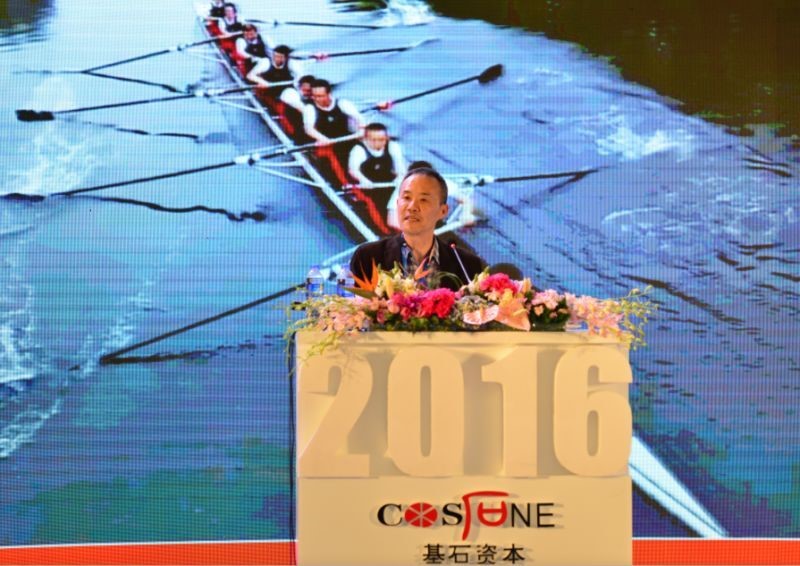 Vanke Chairman Wang Shi making a speech

Wang Shi's speech was closely related to the theme of "Leapfrogging", which, in his opinion, concerns both individuals and enterprises. For him as an individual, he has leapfrogged himself by doing sports such as mountaineering, rowing and marathon, which get his body and mind to be healthier than before. And for enterprises to get rid of the flaws of family businesses and SOEs and realize a leapfrog development, the only way he believed is to adopt a management model of mixed ownership. "Enterprises in Shenzhen should combine the advantages of state, foreign and private ownership in the future," added Wang Shi.
Speaker
Wang Shi
Wang Shi is Founder and Honorary Chairman of China Vanke Co., Ltd. He used to serve as Executive Director of the One Foundation and Shenzhen Mangrove Wetlands Conservation Foundation and Chairman of China Entrepreneurs Forum. With a global vision of environmental sustainability, he sits on the World Economic Forum's Global Agenda Council on Governance for Sustainability, with particular focus on forests, biodiversity and climate change. Wang Shi is a visiting fellow at the University of Cambridge, specializing in business values and ethics. He has teaching roles at numerous universities, including Harvard, Peking, Columbia, MIT, HKUST, and the National University of Singapore.

Rewritten by: Jiang Xiaomei, Edited by: Du Zhixin, Wei Yiyi