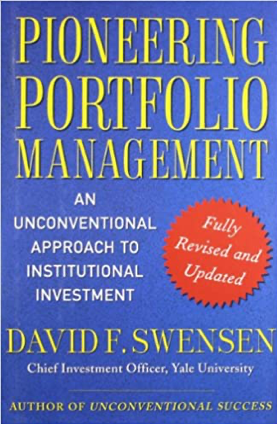 Pioneering Portfolio Management: An Unconventional Approach to Institutional Investment
by David Swensen
In the years since the now-classic Pioneering Portfolio Management was first published, the global investment landscape has changed dramatically -- but the results of David Swensen's investment strategy for the Yale University endowment have remained as impressive as ever. Year after year, Yale's portfolio has trumped the marketplace by a wide margin, and, with over $20 billion added to the endowment under his twenty-three-year tenure, Swensen has contributed more to Yale's finances than anyone ever has to any university in the country. What may have seemed like one among many success stories in the era before the Internet bubble burst emerges now as a completely unprecedented institutional investment achievement.

In this fully revised and updated edition, Swensen, author of the bestselling personal finance guide Unconventional Success, describes the investment process that underpins Yale's endowment. He provides lucid and penetrating insight into the world of institutional funds management, illuminating topics ranging from asset-allocation structures to active fund management. Swensen employs an array of vivid real-world examples, many drawn from his own formidable experience, to address critical concepts such as handling risk, selecting advisors, and weathering market pitfalls.


Swensen offers clear and incisive advice, especially when describing a counterintuitive path. Conventional investing too often leads to buying high and selling low. Trust is more important than flash-in-the-pan success. Expertise, fortitude, and the long view produce positive results where gimmicks and trend following do not.


The original Pioneering Portfolio Management outlined a commonsense template for structuring a well-diversified equity-oriented portfolio. This new edition provides fund managers and students of the market an up-to-date guide for actively managed investment portfolios.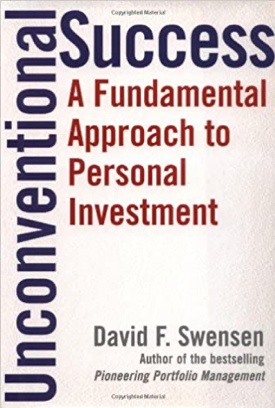 Unconventional Success: A Fundamental Approach to Personal Investment
by David Swensen
The bestselling author of Pioneering Portfolio Management, the definitive template for institutional fund management, returns with a book that shows individual investors how to manage their financial assets.


In Unconventional Success, investment legend David F. Swensen offers incontrovertible evidence that the for-profit mutual-fund industry consistently fails the average investor. From excessive management fees to the frequent "churning" of portfolios, the relentless pursuit of profits by mutual-fund management companies harms individual clients. Perhaps most destructive of all are the hidden schemes that limit investor choice and reduce returns, including "pay-to-play" product-placement fees, stale-price trading scams, soft-dollar kickbacks, and 12b-1 distribution charges.

Even if investors manage to emerge unscathed from an encounter with the profit-seeking mutual-fund industry, individuals face the likelihood of self-inflicted pain. The common practice of selling losers and buying winners (and doing both too often) damages portfolio returns and increases tax liabilities, delivering a one-two punch to investor aspirations. In short: Nearly insurmountable hurdles confront ordinary investors.


Swensen's solution? A contrarian investment alternative that promotes well-diversified, equity-oriented, "market-mimicking" portfolios that reward investors who exhibit the courage to stay the course. Swensen suggests implementing his nonconformist proposal with investor-friendly, not-for-profit investment companies such as Vanguard and TIAA-CREF. By avoiding actively managed funds and employing client-oriented mutual-fund managers, investors create the preconditions for investment success.


Bottom line? Unconventional Success provides the guidance and financial know-how for improving the personal investor's financial future.


Rewritten by: Luo Xinying, Edited by: Du Zhixin, Wei Yiyi