On February 8, 2023, Lingwe Technology (301373), a company invested by CoStone Capital, was listed on the ChiNext board for its IPO, becoming the second company to go public this year under CoStone Capital. On its first day of trading, the stock price of Lingwe Technology rose by 28.52%.
Lingwe Technology's core business involves the research, development, production, and sales of nano-silicon dioxide new materials, as well as the sales of coating additives and other materials. The company has become a leading enterprise in the field of light-scattering silicon dioxide in China, and is one of the well-known producers of nano-silicon dioxide in the industry. It is also the leading drafting unit for domestic industry standards and one of the top ten raw material suppliers in the Chinese coatings industry.
In 2021, the sales revenue of light-scattering agents for Lingwe Technology was approximately 225 million yuan, accounting for 12.81% of the estimated 1.759 billion yuan market size for light-scattering agents in the Asia-Pacific region. According to the certification issued by the China Inorganic Salts Industry Association, in 2020, the company ranked first in comprehensive strength and supply volume among domestic coating-grade silicon dioxide companies, and its sales volume of light-scattering silicon dioxide products ranked first in the country.
Lingwe Technology's nano new material products are currently supplied to seven of the top 10 global coating brands, including PPG, Sherwin-Williams, and AkzoNobel, generating revenue. The products are also supplied to seven of the top eight Chinese coating brands, including Carpoly, Badeshi, and Dabao Paint, generating revenue.
As an emerging chemical enterprise, Lingwe Technology has good barriers to entry and is the only domestic manufacturer with mass production capabilities for mid-to-high-end nano-silicon dioxide products such as opening agents and rust inhibitors. The products are currently in the exploratory stage and have strong growth potential in the future. Looking at the history of A-share, the chemical industry has seen many successful stocks, such as Wanhua Chemical, Tianci Materials, and Huamao Technology. Ms. Yan Yuntong, Director of Investment Department of CoStone Capital, and Ms. Hu Yingni, Chairman of Lingwe Technology, attended the listing ceremony.

Silicon dioxide, as a compound composed of the two most abundant elements in the earth's crust, has extensive industry applications. It is used in common industries such as rubber, tires, feed, footwear, toothpaste, printing, and inks, as well as emerging fields such as coatings, plastics, metal corrosion protection, high-end thermal insulation materials, and battery coatings.

In particular, nano-silicon dioxide, as one of the important high-tech inorganic functional materials, has adjustable surface area, strong surface adsorption, high surface energy, high chemical purity, and good dispersibility. It has special properties in terms of thermal resistance, electrical resistance, and other aspects, playing an irreplaceable role in many disciplines and fields.
Although silicon dioxide products may seem ordinary, the technological difficulty involved is not low. The high-end applications of liquid-phase method silicon dioxide worldwide are mainly dominated by large multinational chemical companies. Currently, there is sufficient production capacity for mid-to-low-end domestic products, but high-end products are mainly imported, which not only comes with high prices but also lacks supply guarantees, posing constraints on the development of downstream industries such as coatings, inks, plastics, and petrochemicals in China.
Especially against the backdrop of the current China-U.S. trade friction, the reliability and timeliness of foreign raw material supply cannot be effectively guaranteed. Additionally, under the background of increasingly stringent environmental protection regulations, the use of low-priced but heavy-metal-containing raw materials is restricted, leading to rising cost control pressures for downstream chemical enterprises. Consequently, there is an increasing demand in the market for domestically-produced high-cost-performance raw materials.
Lingwe Technology has long recognized this important trend. The company has positioned itself in the nano-silicon dioxide industry with light-scattering and adsorption agents as its focus, targeting mid-to-high-end products and steadily expanding into high-end product development in the field of nano-silicon dioxide applications.
Through long-term product research and continuous optimization of production technology processes, Lingwe Technology has developed unique production techniques and has independently developed light-scattering agents, adsorption agents, plastic film opening agents, and silicon dioxide rust-proof pigments with proprietary intellectual property rights. This has broken the monopoly of foreign companies in related fields and gradually replaced imported products in the domestic mid-to-high-end market.
Market Segmentation for Silicon Dioxide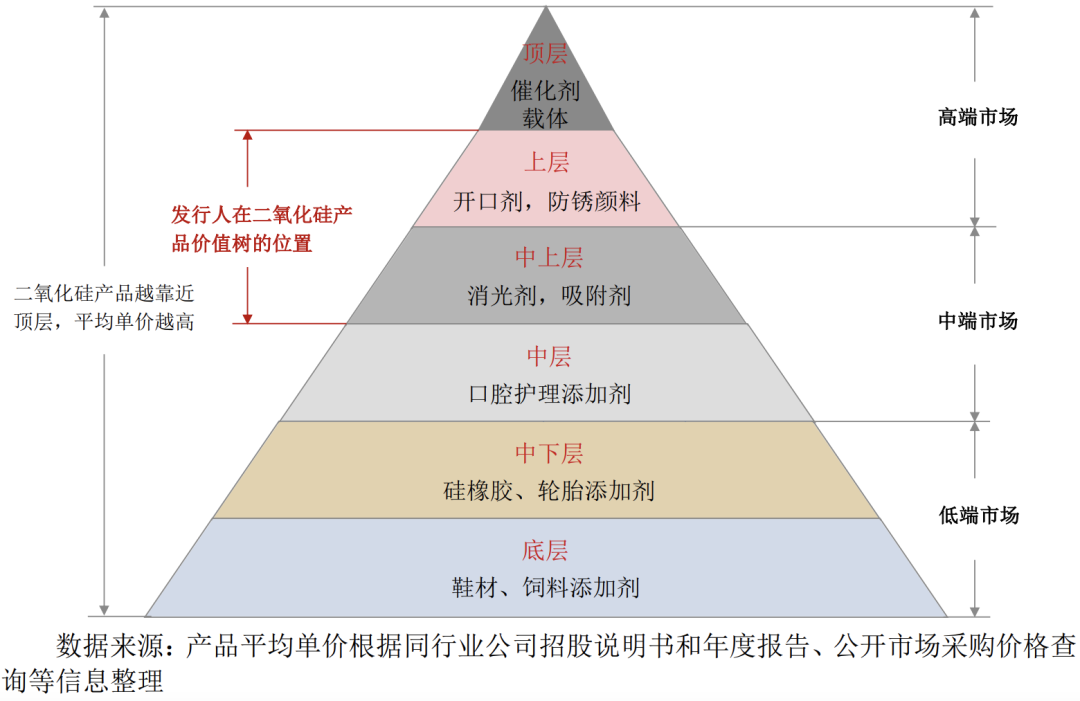 Currently, Lingwe Technology's nano silica products have been widely used in industries such as coatings, inks, plastics, and petrochemicals. End customers are distributed in various applications including woodworking, furniture, leather, textile, coil materials, inkjet paper, advertising materials, rail transportation, 3C electronics, photovoltaics, medical films, and medical gloves.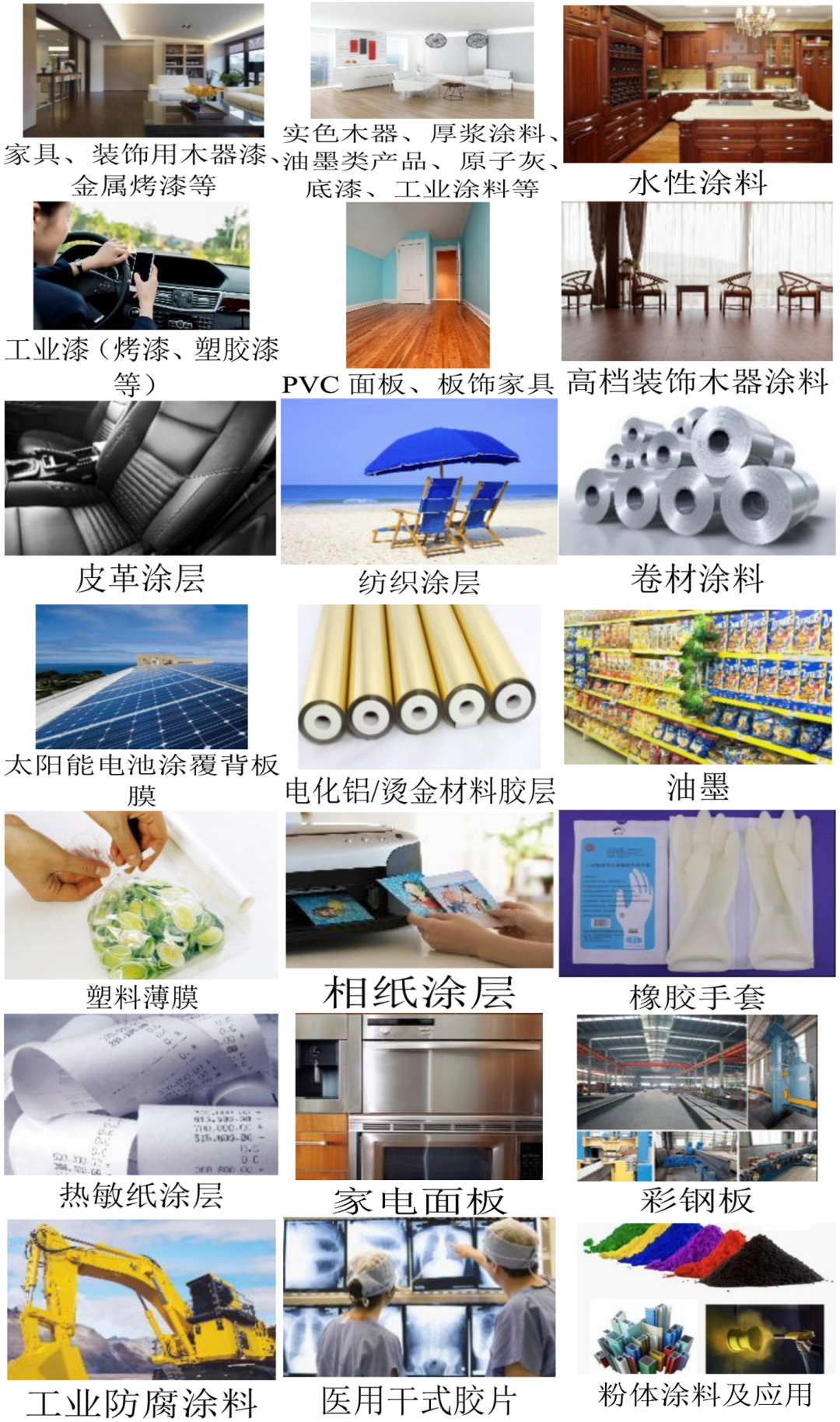 Lingwe Technology's product applications include:
Lingwe Technology has amassed a large number of strong and reputable clients both domestically and internationally. The company's clients include global leading coating manufacturers such as Xuanwei (SHW.N), PPG (PPG.N), AkzoNobel (AKZA.AS), Nippon Paint (4612.T), and Kansai Paint. Additionally, Lingwe Technology has clients among the A-share and H-share listed coating and ink companies, and petrochemical enterprises, including Sichuan Bader Chemical, Zhan Chen Coatings, Jia Baoli, Da Bao, and Junzilan.
From 2019 to 2021, Lingwe Technology's operating revenue increased from 333 million yuan to 409 million yuan, while the non-GAAP net profit attributable to the parent company increased from 60 million yuan to 77 million yuan, and it is projected to reach 82-90 million yuan in 2022.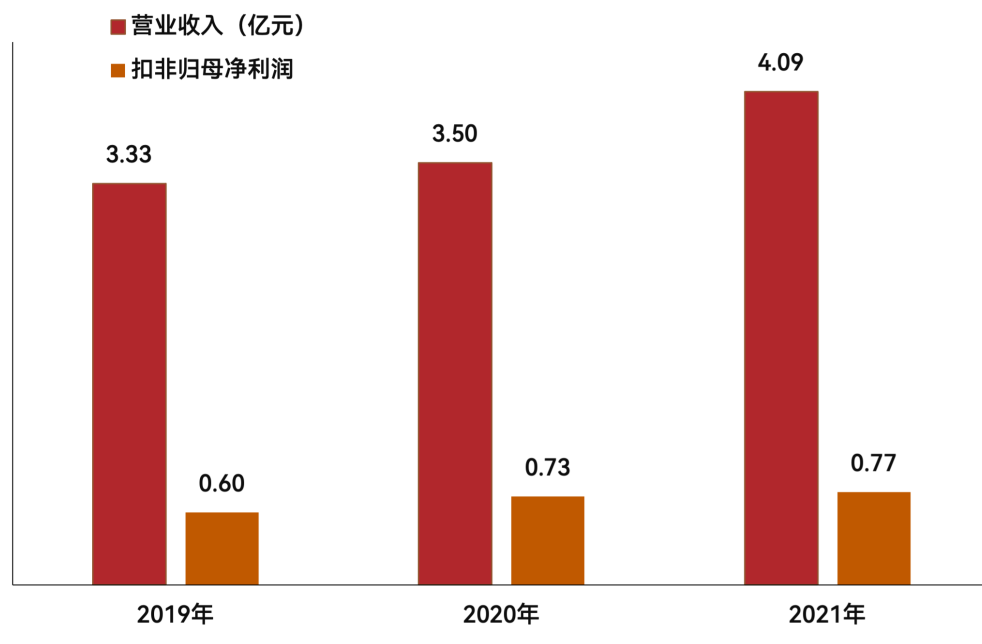 As the trend of domestic substitution strengthens in the high-end nano silica product sector, the stable development of downstream industries will also provide market growth opportunities for the nano silica industry.
Taking the new energy industry as an example, due to its excellent electro-physical properties, silica is gradually becoming the mainstream choice for lithium battery separators. It is expected that in the coming years, there will be significant growth in the use of specialized silica for lithium battery separators.
According to a report by research firm Grand View Research, the global silica industry had a market size of 5.22 billion USD in 2018, and the projected future growth rate of the industry is 8.6%. In 2015, China's nano silica consumption was estimated at 900,600 tons, with a market size of approximately 890 million USD. It is expected that the market size of nano silica in China will exceed 1.5 billion USD by 2021, equivalent to approximately 9.564 billion yuan based on the exchange rate at the end of 2021.
Benefiting from the development of the downstream automotive industry, growing construction expenditures, and the wide application of silica in the paint and coating industry, the nano silica industry is predicted to continue its rapid growth.

Yun Tong, Director of Investment at CoStone Capital's Investment Department, stated that Lingwe Technology's management team has deep industry experience and a profound understanding and keen insight into technology and the market. Over the past 20 years, the company has seized market opportunities and key transformation points, from trade to research and development, to production. The company values technology, and after years of accumulation, has developed synthesis methods for precipitated silica and gel silica. It also possesses leading market technology reserves in water-based special matting agents, silica for plastic masterbatch, and ion exchange anti-rust pigments. The company has accumulated significant advantages in product services, featuring a comprehensive product range, stable quality, and outstanding operational capabilities. Furthermore, Lingwe Technology is the first domestic leader to propose the concept of subdivided products in matting powders and has achieved the highest market share and rapid profit growth domestically. We look forward to Lingwe Technology's continued deepening of the industry, expansion of product categories, and becoming the Chinese leader in this field.