April 9, 2017
CoStone Annual Meeting 2017 made a hit in Sanya, Hainan from April 8 to 9. The theme was "Navigating Through the Fog". After three decades of rapid growth, China has entered a "fog" where the economy is declining and plagued by government debts, non-performing loans in banks and overcapacity. Moreover, the deteriorating business environment, a weak real economy driven by investment and the complex international situation have caused more uncertainties. Will the "fog" disperse? Can we get out of the middle-income trap? How do we keep moving forward?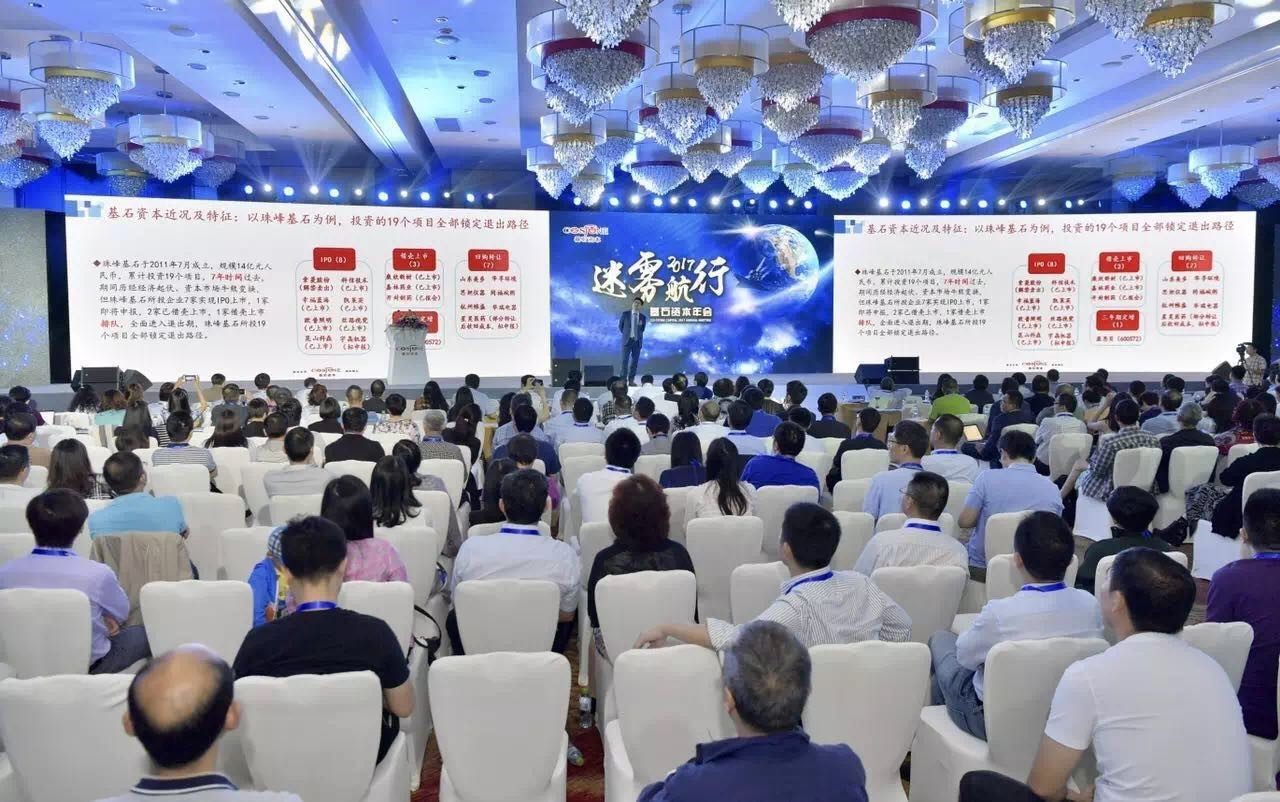 CoStone Annual Meeting 2017- Navigating Through the Fog
To answer the questions, Zhang Wei, Chairman of CoStone Capital, Wen Pengcheng, Founder of Wens Foodstuff Group, Ma Xiuhui, CEO of Opple Lighting, Peng Jianfeng, Professor at Renmin University of China, Tang Xiao'ou, Professor at the Chinese University of Hong Kong, Shi Wei, a chief expert of China Stone Consultant, Gong Pengcheng, Professor at Peking University, and Chen Zhiwu, Tenured Professor at Yale University, gathered at the meeting to share their insights.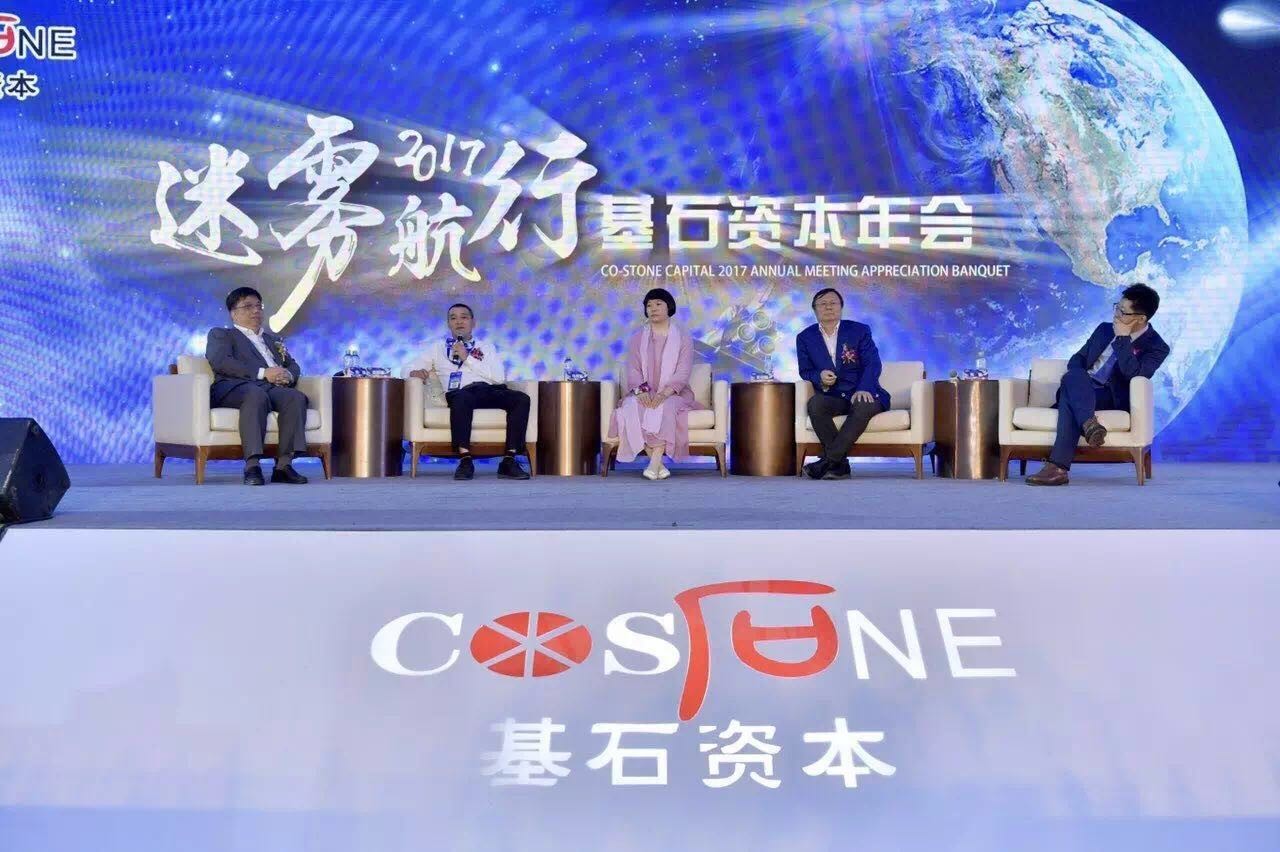 Entrepreneurs Forum-Growth of Enterprises Under Uncertainties
At the same time, the Entrepreneurs Forum witnessed heated discussions on the development of healthcare, TMT, culture & entertainment, and other emerging industries. Entrepreneurs from these industries made informative speeches. Wu Xinghua, Chairman of Quanyi Health, Cheng Minghe, President of Mindray Bio-Medical, Yuan Yuyu, Chairman of MedPlast HealthCare, Sun Jianhua, Chairman of Sino Medical, Xu Li, President of SenseTime, Liu Zihong, Chairman of Royole, Zou Xiaowu, Chairman of Easy Click Worldwide, Ma Dong, Founder of Mewe Media, Zeng Rong, Founder of Houghton Street Media, and Ding Feng, Founder of Ergeng Network, were among them.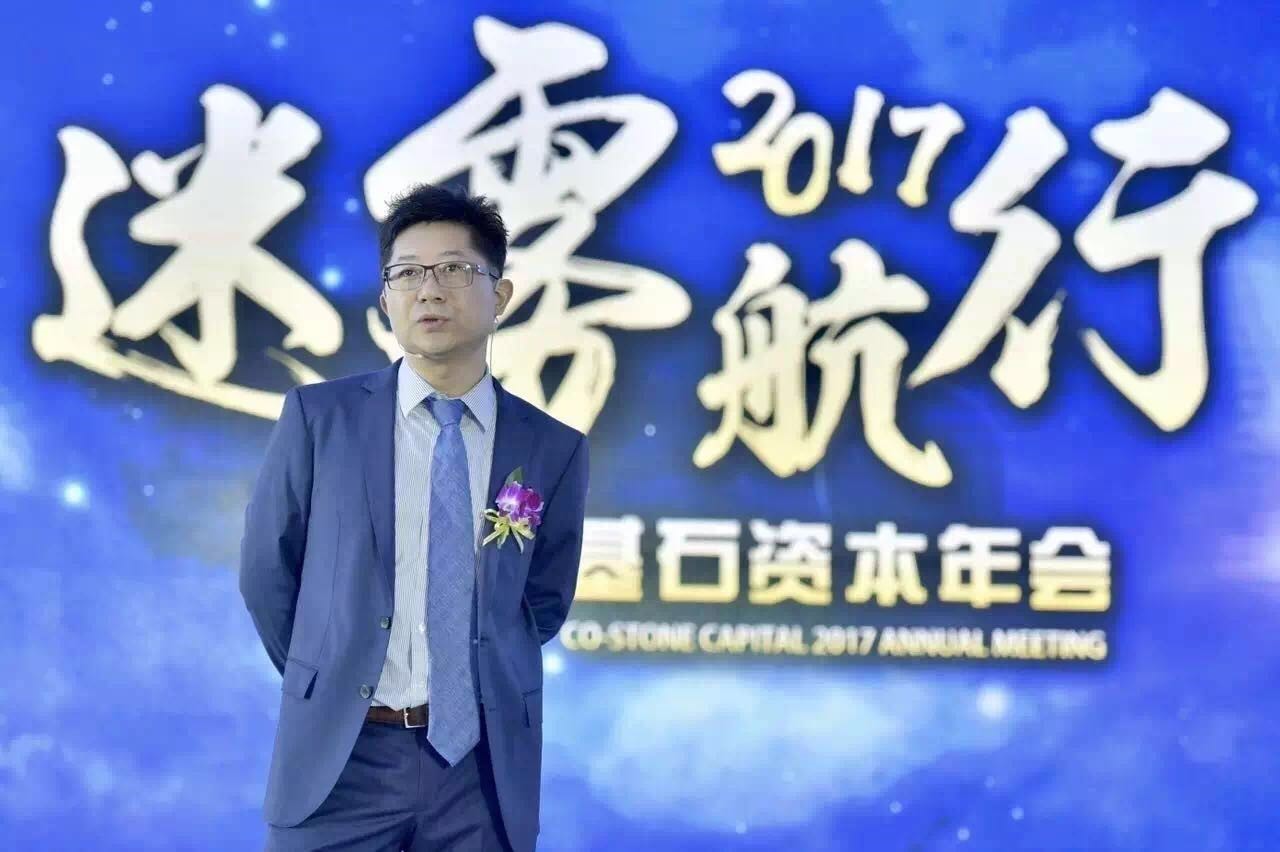 Chairman Zhang Wei making a speech
Chairman Zhang Wei expressed that innovation and entrepreneurship would be the only way for China to get out of the "fog". It means to encourage people to do business creatively and drive innovation in Premier Li Keqiang's words. Chairman Zhang emphasized that CoStone Capital has always been optimistic about the investment in China. The rise of a large-scale middle class has brought a great transformation to the consumption structure and growth mode in China. New forms of consumption are booming and the industrial upgrading is under way. "Over the past two years, CoStone Capital has made a total of $10b investment, with more than $6b put in the PE/VC industry. Our portfolio represents China's new economy, which has been the major driver of the entire economy," he said.
Speaker
Prof. Peng Jianfeng
Peng Jianfeng is Professor and Supervisor at Renmin University of China, Chairman of China Stone Management Consulting Group, Deputy Director of China Enterprise Confederation Management Consulting Committee, Vice President of Beijing Enterprise Directors Association, and a famous management consulting expert in China. Prof. Peng used to be Vice President of the School of Labor and Human Resources of RUC. He has been engaged in the consulting and research work on HR management and corporate culture for a long time. He also provides consulting services for enterprises. He has been hired as a senior management consultant and a team leader by Huawei and TCL successively. The team led by him has consulted for dozens of famous enterprises, with the results of Huawei Basic Law, OCT Charter, TCL: Defeat Scale with Speed, Samsung (China) Culture and Dongfeng Nissan Programme of Action.
Prof. Tang Xiao'ou
Prof. Tang Xiao'ou received his bachelor's degree from the University of Science and Technology of China, Hefei, in 1990, a master's degree from the University of Rochester, Rochester, NY, in 1991, and a PhD degree from the Massachusetts Institute of Technology, Cambridge, in 1996. He is Professor at the Department of Information Engineering and Associate Dean (Research) of the Faculty of Engineering at the Chinese University of Hong Kong. He worked as the group manager of the Visual Computing Group at the Microsoft Research Asia from 2005 to 2008. His research interests include computer vision, pattern recognition, and video processing. Prof. Tang received the Best Paper Award at the IEEE Conference on Computer Vision and Pattern Recognition (CVPR) 2009. He is a program chair of the IEEE International Conference on Computer Vision (ICCV) 2009 and has served as Associate Editor of IEEE Transactions on Pattern Analysis and Machine Intelligence (PAMI) and International Journal of Computer Vision (IJCV). He is a fellow of IEEE.
Prof. Shi Wei
Shi Wei is a researcher and Chief Consultant at the Finance and Securities Institute of RUC. He has been engaged in enterprise management consulting since 1995, specializing in marketing and enterprise strategy. He has served TCL, Midea Group, Giti Tire, Motorola, Liuhe Group, Robust Group, CIMC, Telling Telecom and SPD Bank. He also provides management trainings for many enterprises in China, which have been well received.
Prof. Gong Pengcheng
Prof. Gong Pengcheng, a famous scholar and thinker, was born in Taipei, Taiwan. He earned his PhD from the Research Institute of Chinese Language and Literature, National Taiwan Normal University. He was Dean of the College of Liberal Arts, Tamkang University, Founding President of Nanhua University and Fo Guang University, and President of Eurasian University, USA. He is the recipient of the Zhongshan Literature and Art Award. He served as Professor at Beijing Normal University, Tsinghua University, Nanjing Normal University after 2004. Now he is Professor at the Department of Chinese Language and Literature, Peking University.
Prof. Chen Zhiwu
Prof. Chen Zhiwu graduated from Central South University in 1983 with a bachelor's degree. Later he obtained a master's degree from the Changsha Institute of Technology in 1986 and a PhD from Yale University in 1990. Prof. Chen is Director of the Asia Global Institute (AGI), Chair Professor of Finance and Victor and William Fung Professor in Economics at the University of Hong Kong. He is a former professor at Yale University (1999-2017). His research covers finance theory, the sociology of finance, economic history, quantitative history, emerging markets, as well as China's economy and capital markets. He was also a Special-Term Visiting Professor at Peking University (School of Economics) and Tsinghua University (School of Social Sciences).

Rewritten by: Jiang Xiaomei, Edited by: Du Zhixin, Wei Yiyi